Step by Step - The cheapest way to go from Bangkok to Angkor Wat or Siem Reap
Some people would argue that walking, biking or hitching is the cheapest way. And they might be right. But this is not for everyone so let me show you  the easy way. And I challenge you on the first leg of this trip. How about you get from Bangkok to the border of Cambodia for less than 2 US $? Only hitching would be cheaper but since you have to wait for a lift in the heat of Thailand you will probably drink for more than 2 US$. And the wear and tear to your shoes or bike would be more than 2 US$ as well. After you cleared the border it is another 9 US$ to get to Siem Reap – the gateway to Angkor Wat.
So lets break it down in small pieces.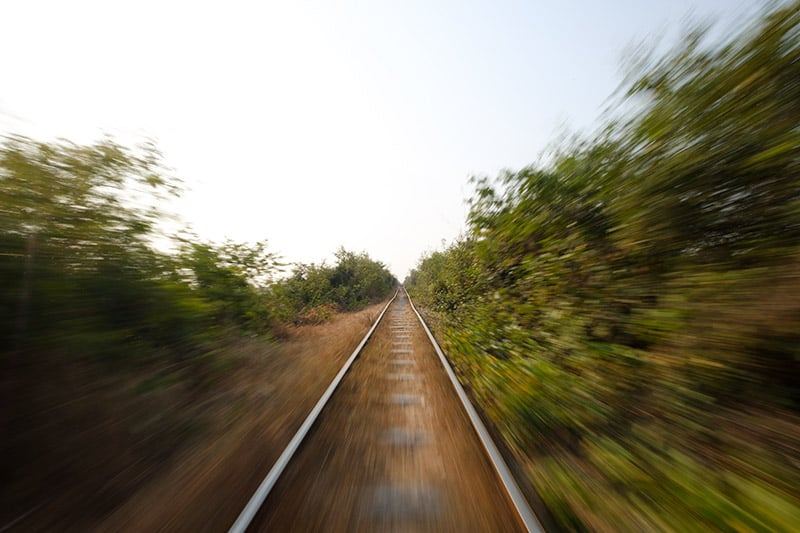 From Bangkok to the Cambodian border by train…
From Bangkok, it is about 265 km to the border in Poipet. The train goes all the way from Bangkok to Ban Klong Luk which is only 200 meters from the Cambodian border. It is a 3rd class train only but the Thai 3rd class trains are quite nice. There are vendors walking the train that sell food and drinks and it is quite clean. You can open the windows and enjoy the breeze while your eyes travel to the countryside.
Fares
Bangkok to Aranyaprathet: 48 baht
Children aged 0 to 3 and less than 100cm in height travel free.
Children aged 4 to 11 and under 150cm travel at half fare.
Children from 12 years  or over 150cm high pay full fare.
No reservation required, just show up, buy a ticket and board the train.
The train also stops at Phaya Thai Station next to the Phaya Thai BTS Skytrain station. And Makkasan Station which is not the same as the Makkasan Airport Rail Link Station!! Bus Asoke Station is close to Makkasan Airport Rail Link Station and Phetchaburi MRT Station. Boarding at these stations can be more convenient if you're staying in northern Bangkok.
Crossing the Border to Cambodia
You can stay one night at the Thai side of the border or cross the border and stay one night on the Cambodian side.  Or you continue the trip on the same day.
After you are done with the paperwork at the Poipet border post walk to the big roundabout. You will see an official free transit bus to the Poipet Tourist Passenger International Terminal about 10 minutes down the road. From here all the shared taxis and buses leave for Siem Reap  (and Battambang or Phnom Penh).  The shuttle bus (and the man with the official badge who guides you to it) is legitimate. Beware of touts along the way and read up on all the border scams to be prepared. This is the worst border crossing I ever saw – talking about scams here only!
Take a Bus to Siem Reap
I would take a bus but you could try to hitch from here. Usually, cars in Cambodia are full of people but you could get lucky with a truck. You could try for a while and if you have no luck you could take a bus.
The 150 km (94 miles) from Poipet to Siem Reap should take about 2½ hours by shared taxi or 3 hours with a  bus.  Prices are posted at the ticket counter at the Poipet Tourist Passenger International Terminal.  A shared taxi costs about 12 US$ per seat.  A bus will cost you about 9 US$, a minivan about 10 US$.
If you left Bangkok with the morning train at 05:55, you should reach Siem Reap around 15:00.  If you left Bangkok at 13:05, you should reach Siem Reap around 22:00. Keep in mind that low season or high season makes a difference at the border. Some people are lucky and make it in 20 minutes or less. And some take hours. This will affect your time – and Monsoon rain or a clear sunny day will make a difference for the bus as well!