History of Lauda
The airline was founded in 2004 as Amira Air as a provider of charter flights for executive travel, serving European and international destinations.
In 2016, the famous Formula 1 driver Niki Lauda took over Amira Air and renamed the company Laudamotion but most call it simply Lauda. Up until February 2018, the airline operated chartered business flights with a fleet of business jets.
In 2018 Ryanair acquired 24.9% of Laudamotion and raised that stake later to 75%. In 2019 they bought the remaining 25% and renamed the company Lauda.
This Lauda review and the pictures are from a flight in June 2019
Booking on the Web Site
Lets book a flight at Laudamotion so you see what to expect. At the time of writing (January 30, 2020) I could not select the same flight from Stuttgart to Marseille. So I choose the Stuttgart to Krakow flight.
Flight Selection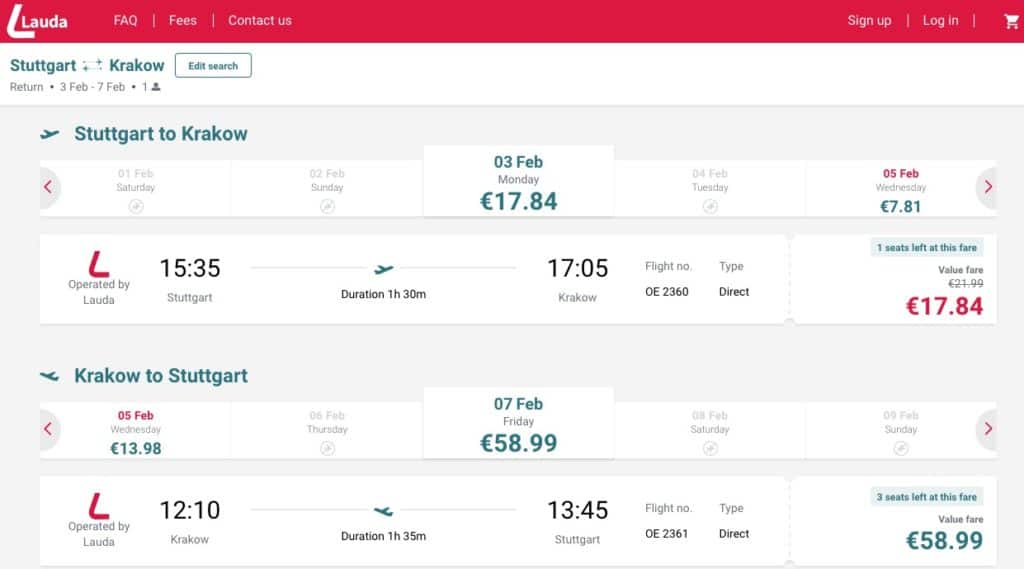 This one is really easy to figure out. You see that for example a cheaper flight on the 5th of February. Some destinations have more than one arrival or departure a day. So you might have more options to chose from.
If you want the flight for 17.84€ you have to click on it.
Flight Upgrade Selection
This will open the next step with the bags etc. Now the tricky part begins! You have to know how many bags you bring and how heavy they are. Fear not – you can book all of that later as well.
Value Option
This is easy – one small bag only that has to fit under the seat in front of you. 40 x 20 x25 cm but there is nothing about the weight.
Regular Option
One small bag that has to fit under the seat in front of you and a regular Cabin Bag. 40 x 20 x25 cm for the small one. And 55 x 40 x 20 cm for the 10 kg Cabin Bag. And you get Priority Boarding which Lauda calls Board First.
Depending on your airport Board First does not make any sense at all. You will see later.
Plus Option
One small bag (40 x 20 x25 cm) that has to fit under the seat in front of you and a regular up to 20 kg Check-In Bag. You get a (standard) reserved seat for free. You can check-in at the airport for free. If this makes you wonder – you are right. Want to check-in at the airport without the Plus Option? It is only 55€!!
Regular Option and Plus Option Seat Selection
There is no way to figure out how much another seat will cost you if you like a more legroom seat or one in the front. They have "start from" prices. But to get a feeling here are a few pictures for the Stuttgart-Krakow flight.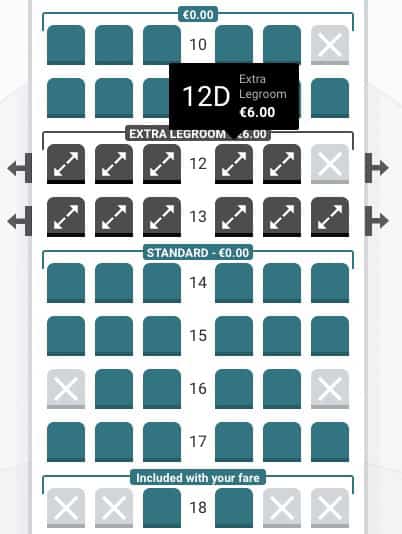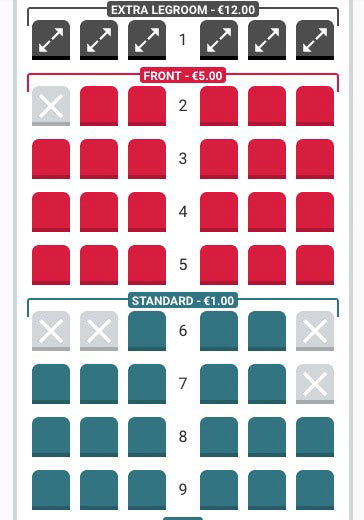 Laudamotion Luggage Prices
Let's say you want the cheap fare but want to add a bag. Let us look at your options.
One small bag (40 x 20 x25 cm) that has to fit under the seat in front of you is free.
14€ extra for a regular Cabin Bag 10 kg (55 x 40 x 20 cm).
If you need to check-in your bags a 10 kg Check-In Bag is 12€ or a bag up to 20 kg for 20€. If you bring your baby stroller it will be another 15€.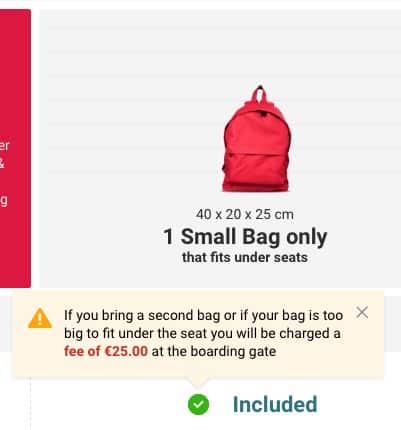 We only had small bags so it was no problem. Hard to tell what others had but there were a lot of people with bigger bags that had no problem to board. You might gamble with your luggage.
Bring a kid? You need to pay extra!
25€ per Infant/Per one way flight (must be under 2 years for both outbound and return flight)

Adults traveling with children under 12 (excl. infants) are required to purchase a reserved seat per flight. Up to 4 children (under 12) will get free reserved seats (Seats in rows 18-33).

A fee charged per item/ Per one way flight – maximum weight of 20kg per item (2 items of baby equipment are carried free of charge per child – 1 pushchair plus one of the following items: car seat or booster seat or travel cot).
Laudamotion Seat Selection

Let's say you only bring the small bag but want another seat. Or you travel with your better half or a friend. I can assure you they will place you on different seats so you get a reservation next time!
You have the following options: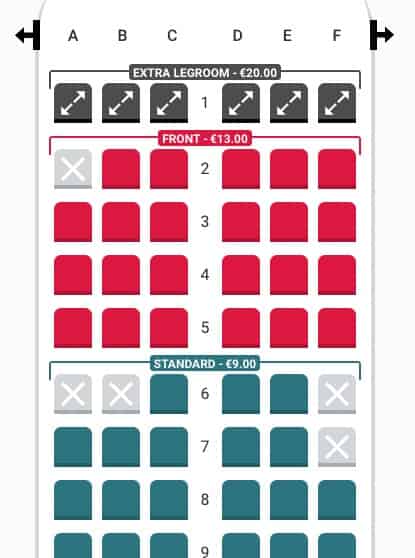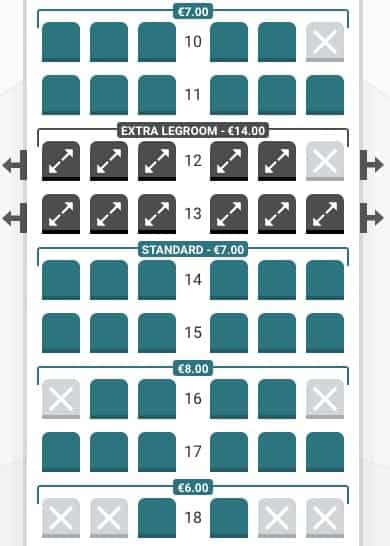 This is really confusing! If you have the Regular or Plus Option everything from row 18-30 is free.
If you only want a seat you have to pay more towards the back?? Unless you have diarrhea and need to move to the toilet in the back really fast it does not make any sense.
Pro Tip:
Hate turbulence? The further you are back in the plane the more it moves you. The best seat on the plane to avoid turbulence is either over the wings or towards the front of the aircraft.
Of course, you can skip the seat selection altogether. The next screen brings more options to spend money.
More Extras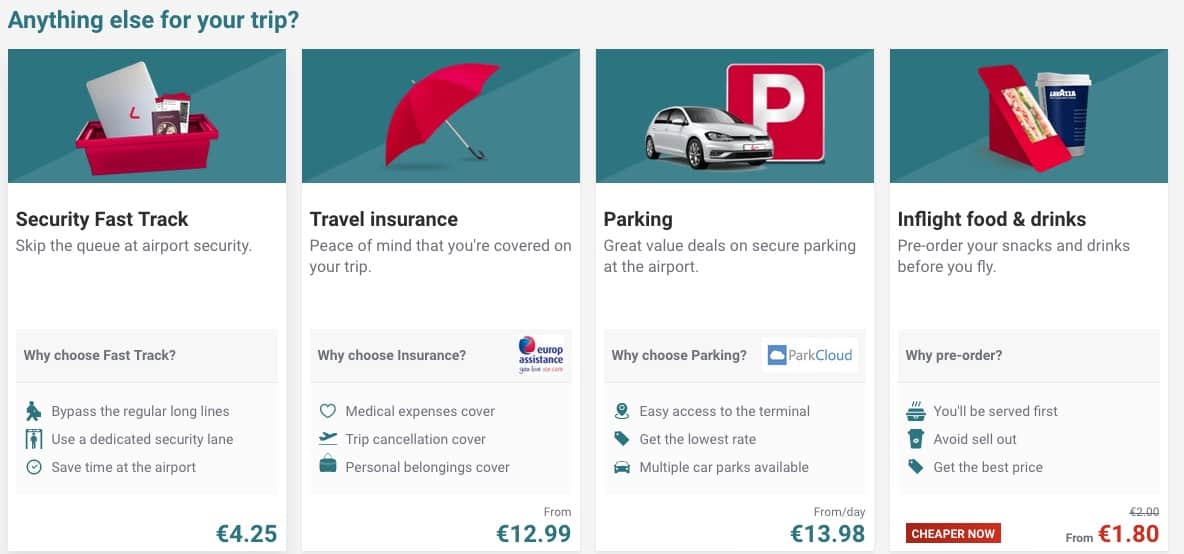 Need to spend more money? The fast track does not make sense at all airports. Some do not have one. Travel insurance? Depends – I guess not. Parking – depend on the airport and you. Let us look at food and drinks.

Hard to bring hot coffee or tea into the plane. Water or Pepsi you might find cheaper at the airport after security. Chocolate or Chips? You can bring that to the airport and save some money.
Conclusion Booking with Extras
This is a nightmare. Unless you do what they want you to do and book a package. If you only have luggage but do not want a special seat it looks like that for out Stuttgart to Krakow flight:
Small bag only 17,84 €
Small bag and Cabin Bag 31,84 €
Small bag and 10 kg bag 29,84 €
Small bag and Cabin Bag and 10 kg bag 43,84 €
Small bag and 20 kg bag 37,84
Small bag and Cabin Bag and 20 kg bag 51,84
If you want an extra legroom seat but have only a small bag but a 10 kg check-in bag you have to get the calculator out. And for the 20 kg bag, you really have to start looking at the different options.
Small bag only 17,84 € plus 12 € for 10 kg plus 14 € for the cheaper extra legroom seat: 33,84
Small bag only 17,84 € plus 20 € for 20 kg plus 14 € for the cheaper extra legroom seat: 51,84
Plus Option: Small bag only 17,84 € plus Plus Option 28 € plus 6 € for the cheaper extra legroom seat: 51,84
Wait – where are my savings? If I do not need to check-in at the airport the Plus Option is worthless.

And so on and so on. Have fun choosing your options 🙂
Rating Website

The website works quite well. I like the Farefinder, Destination, and the Route Map feature is also great.
Quiet easy and streamlined to book a flight here if you only have a small bag and do not care about anything else. It is easy to book and it is easy to book anything they sell you on top.
Do not get me wrong – all that upselling is not what is rated here. Only the website.
Rating Baggage and Carry-On Luggage​

You have to pay extra for everything else. This is a Budget Airline I do understand. But that is way too confusing if you do not know exactly what you want.
And if you have a 20kg bag, a coffee, a window seat and a carry-on bag you might fly cheaper with another airline. Not to mention if you fly with a kid and a stroller. It is really hard to compare with all the extras you have to buy.
I can not give more than 1 stars for Baggage and Carry-On.
Our Stuttgart-Marseille-Stuttgart Flight
This flight was part of a flight/hotel deal. We had the flight Stuttgart to Marseille and back. A room in a 3 room apartment with a big kitchen in a quiet part of Marseille. The flight and 3 nights where 211,59€ for two people. You can not really complain about that. There was only a small piece of baggage included. It has to fit under the seat in front of you.
The flight to Marseille leaves in Stuttgart at 5:55 in the morning. So I can not really make this flight on public transport. We need to take a taxi to the airport and the taxi is more expensive than the flight. And if I think about all the people that work at the airport…

Anyhow. The only good thing with leaving so early is that you have the whole day in Marseille – or almost. The plane arrives at 7:20 in the morning.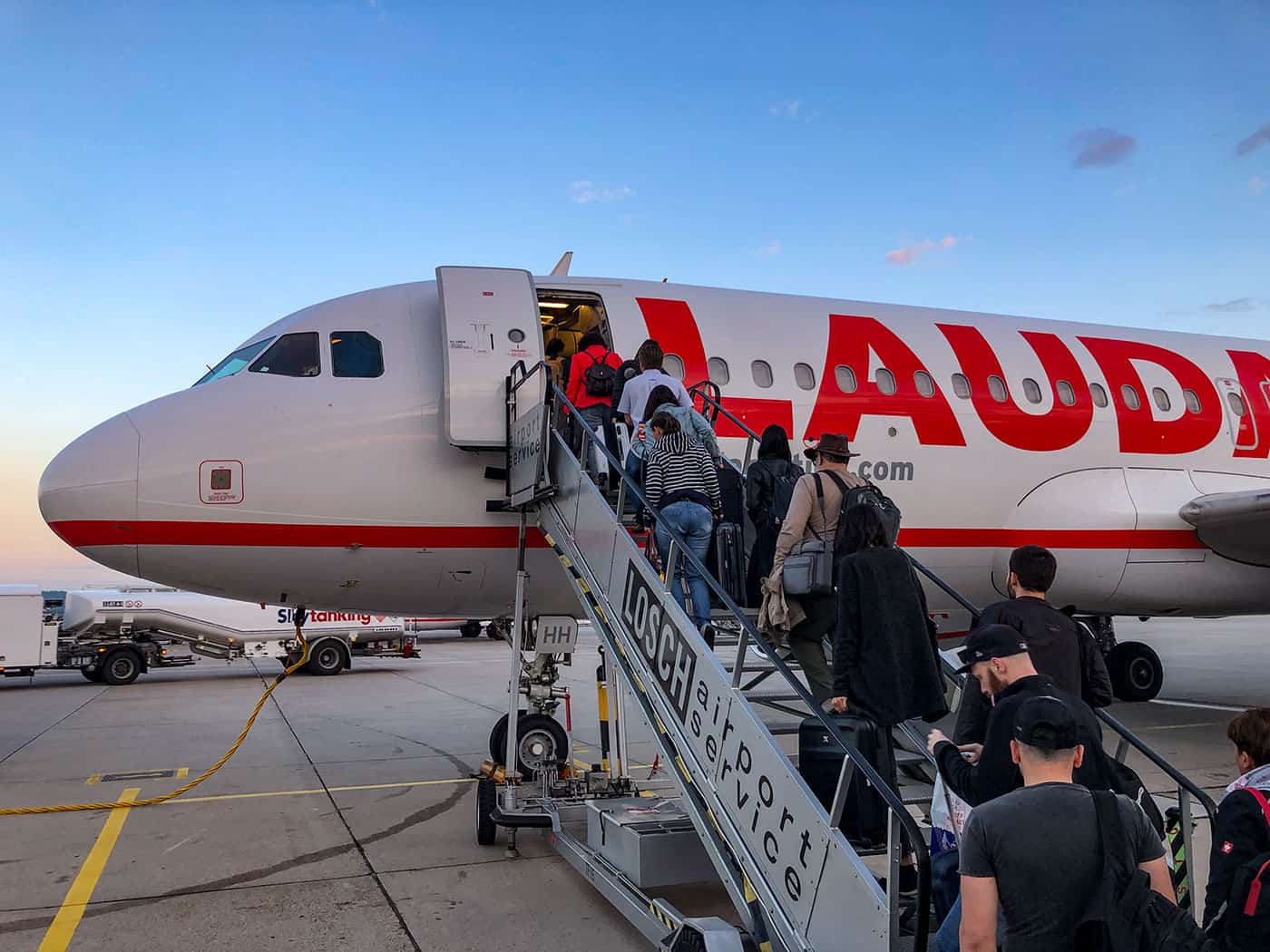 Boarding in Stuttgart
I do not like bus transfers to the plane. You have to be early at the airport. Long lines at security. You wait till boarding and you have to wait again for the bus. And another bus because the first one is full. The only good thing – you can use both doors to get into the plane.
Here you see where First Boarding gets you. Nowhere. Even if you are the first on the bus you will not be the first out of the bus. Makes only sense on the way out of the plane. If they have a bus – you have to wait till it is full. But at last, you are on the first bus.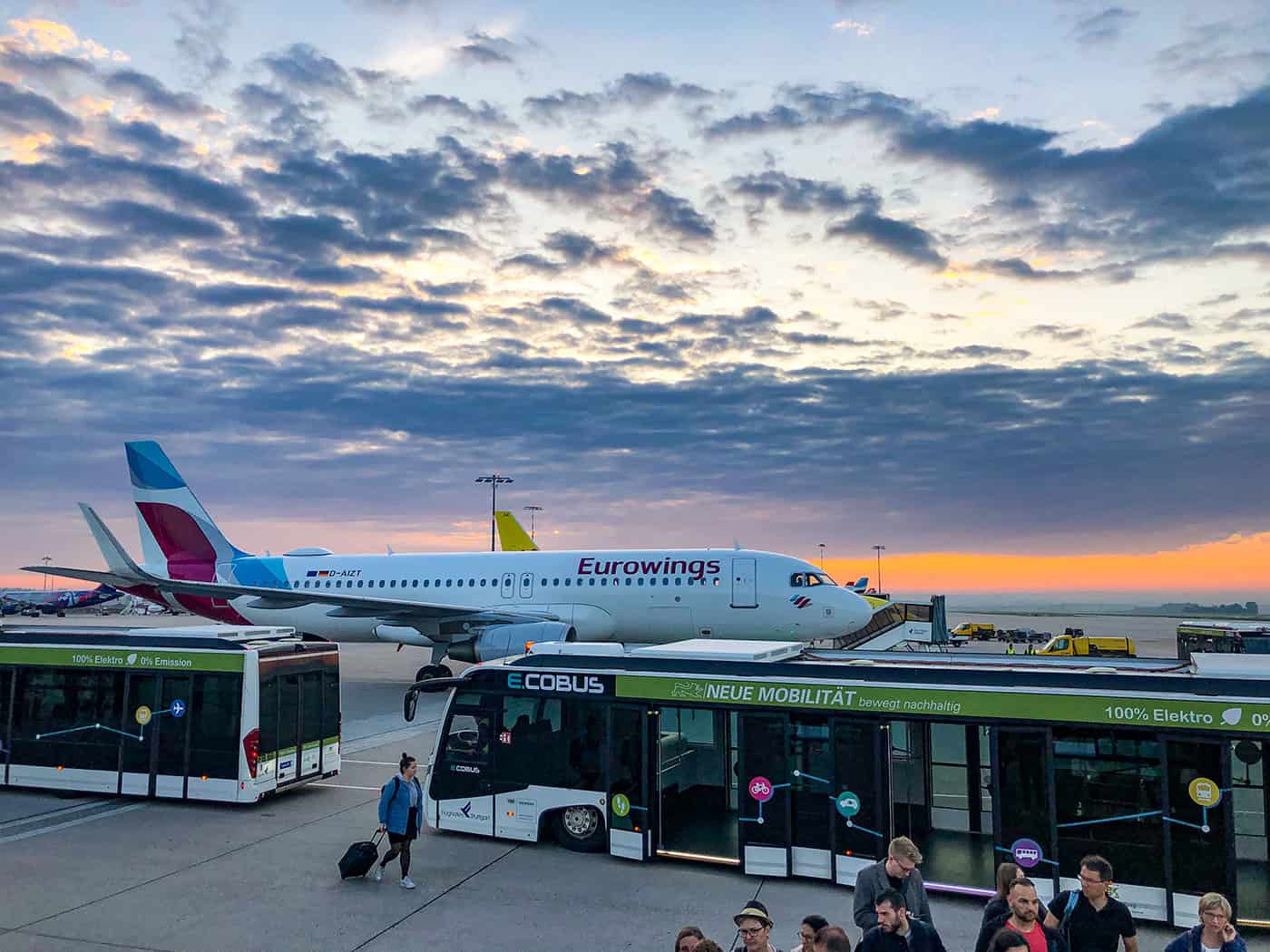 Looking at the bright side of a bus transfer to the plane. You have a nice view from the plane door over the airport. And can take nice pictures from your plane after you left the bus.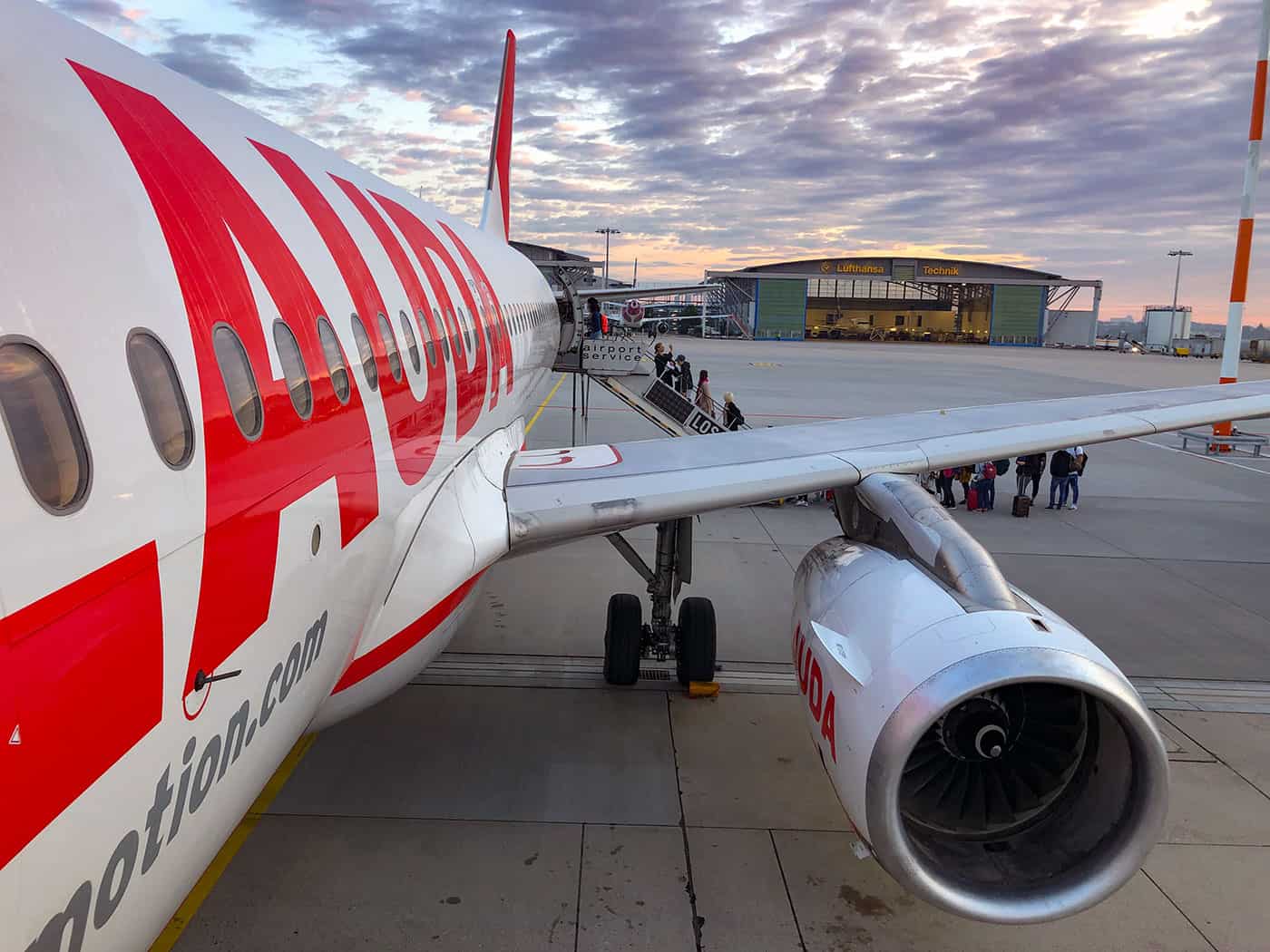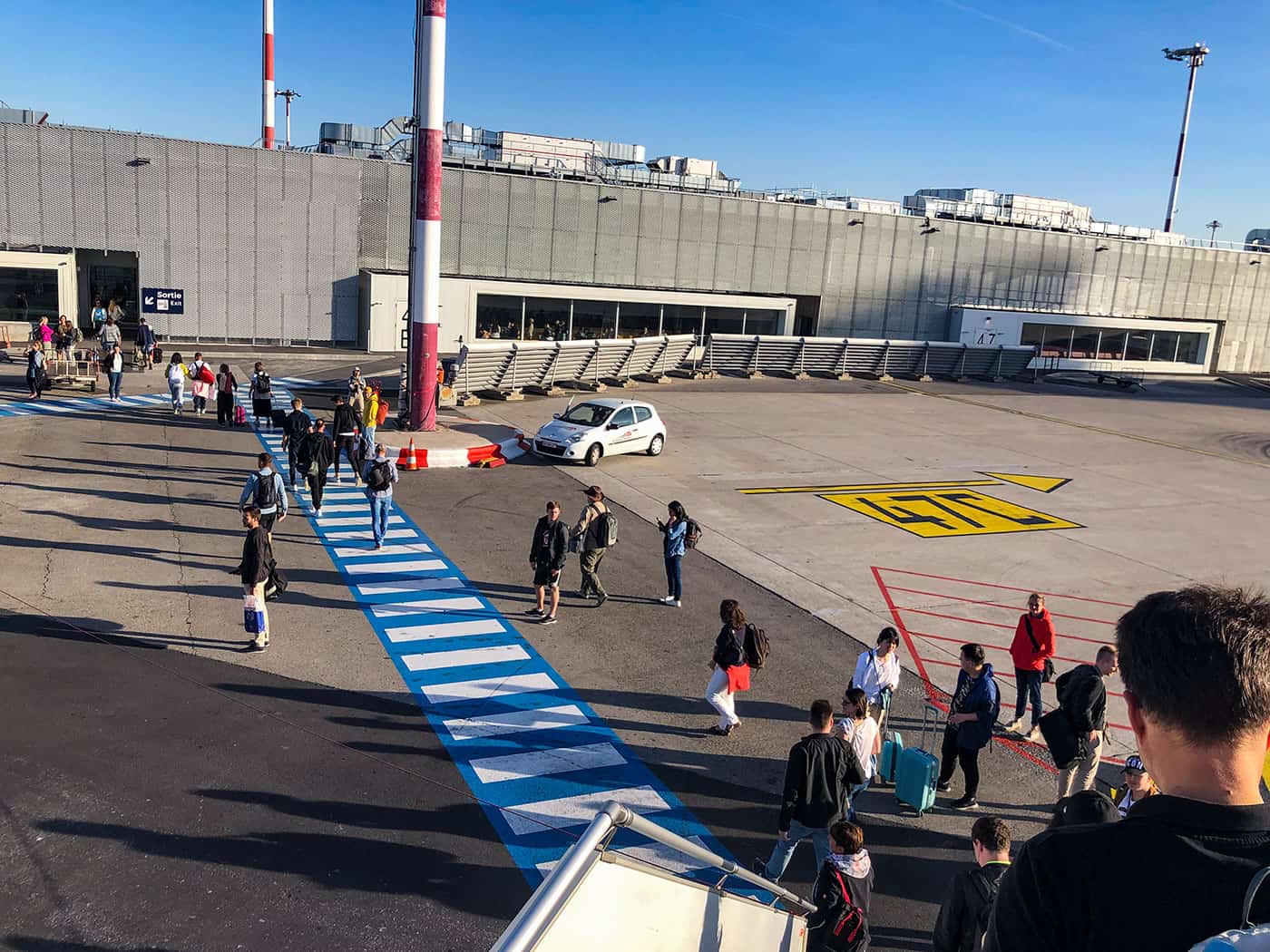 In Marseille, you walk to the building. If you have a seat in the front you will win a few minutes. That is if you do not have any check-in bags.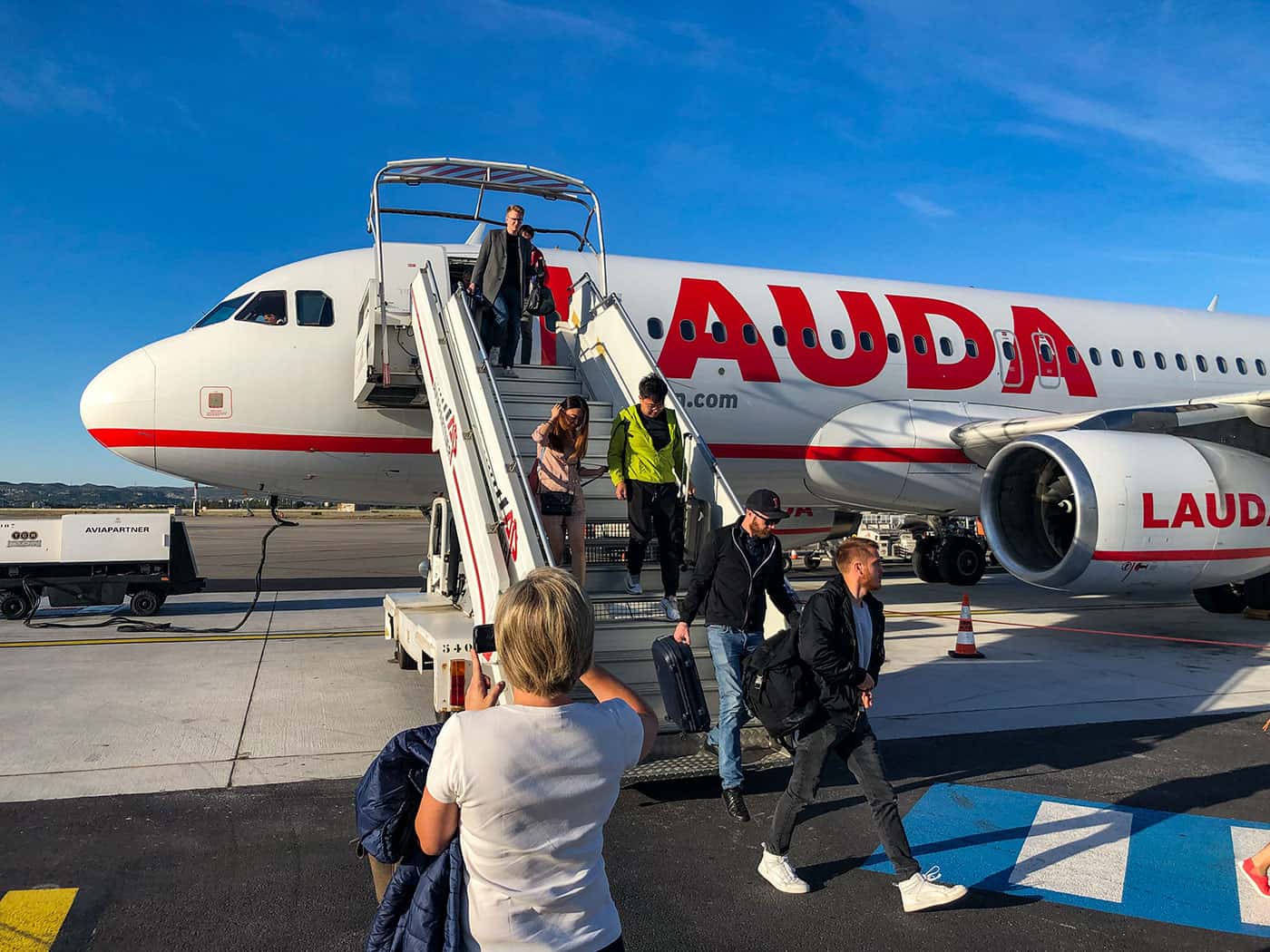 Marseille – Frankfurt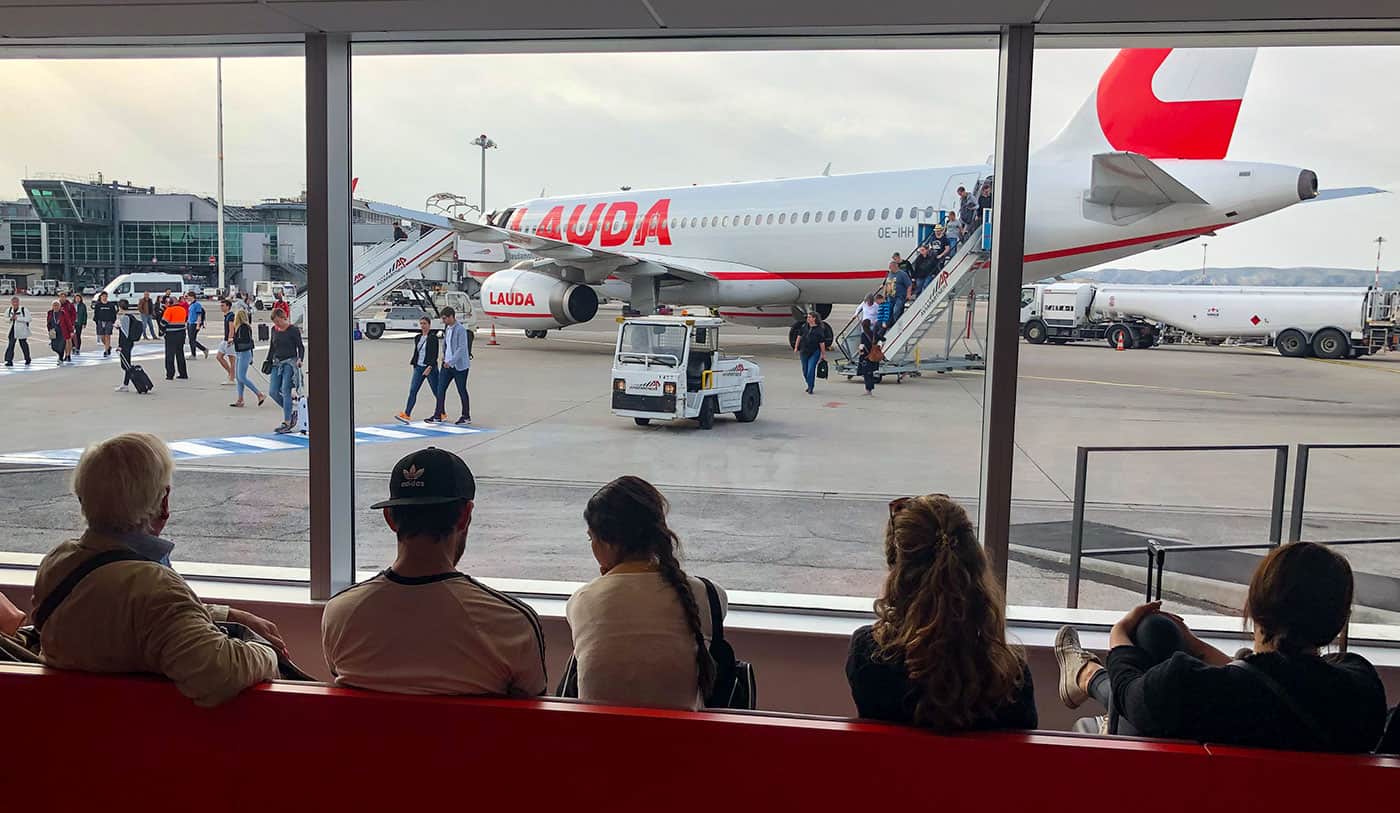 Marseille is a small airport. They had two doors for the small room where you wait to board the plane. Now your Fast Boarding pass makes sense. You can go to the room and sit in the front. The others have to wait for another 20 minutes or so. After that, we could go into the room and stand behind the seating area.
Pro Tip: Do not come too early for boarding!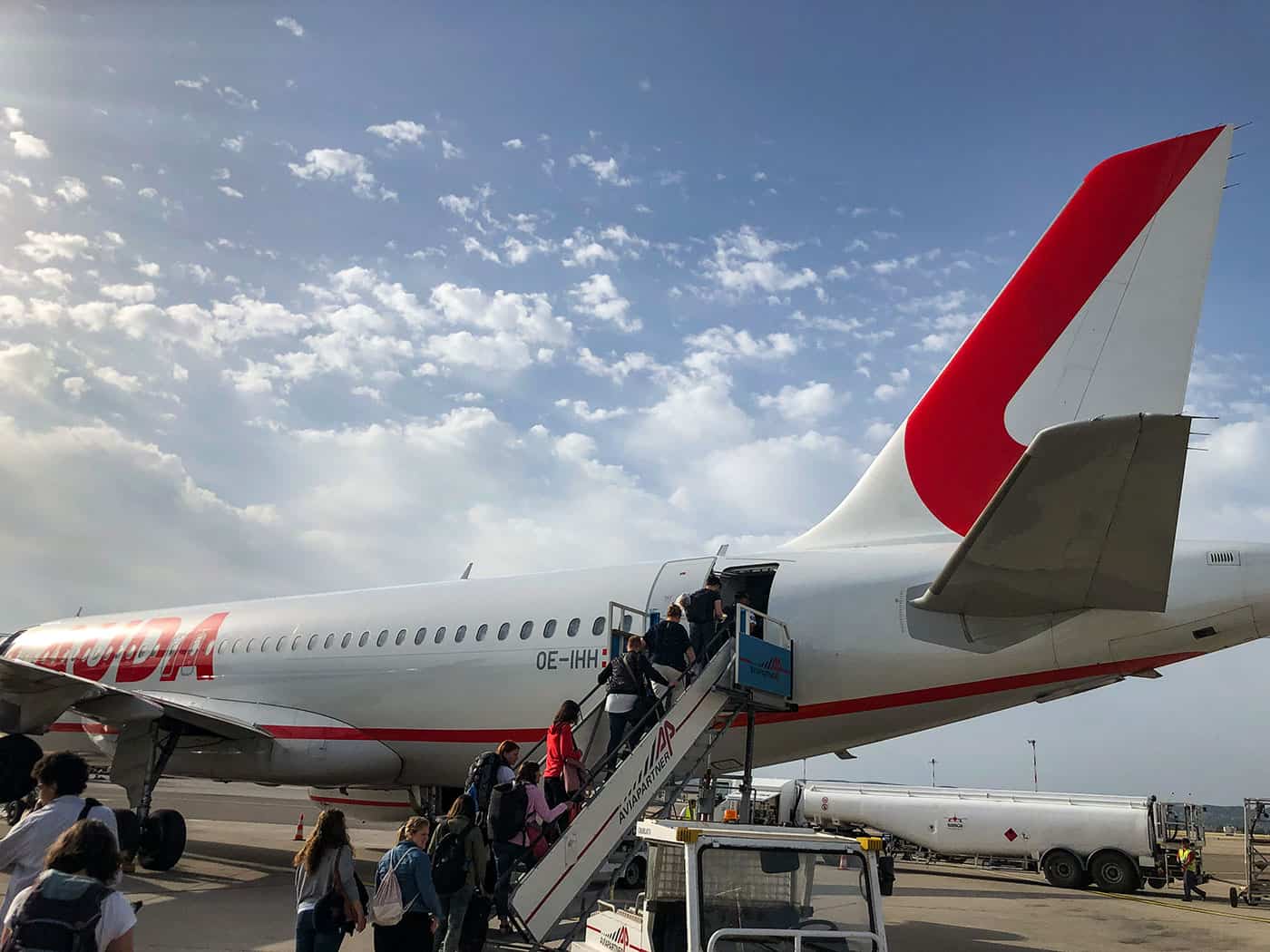 Another chance for a few pictures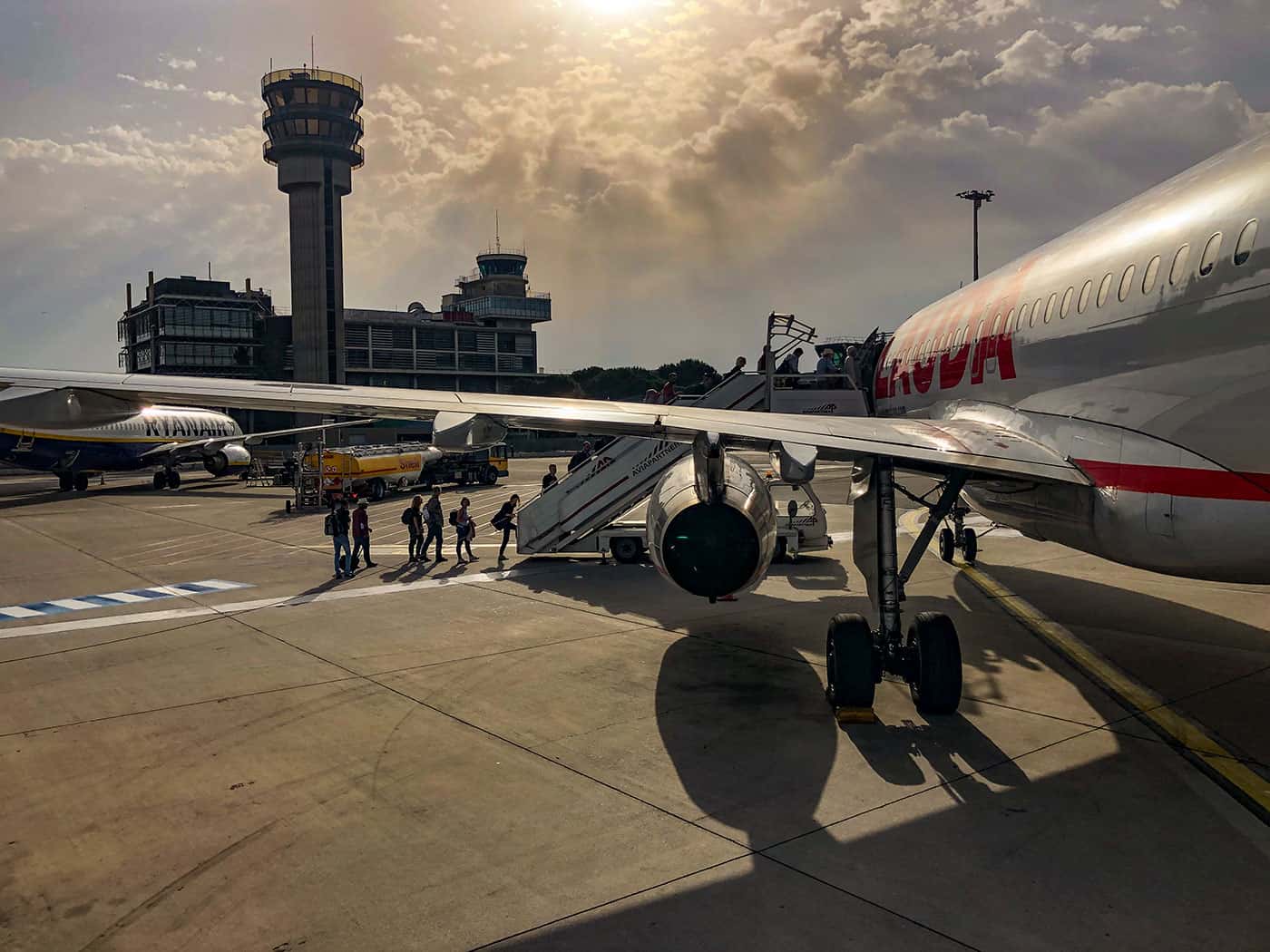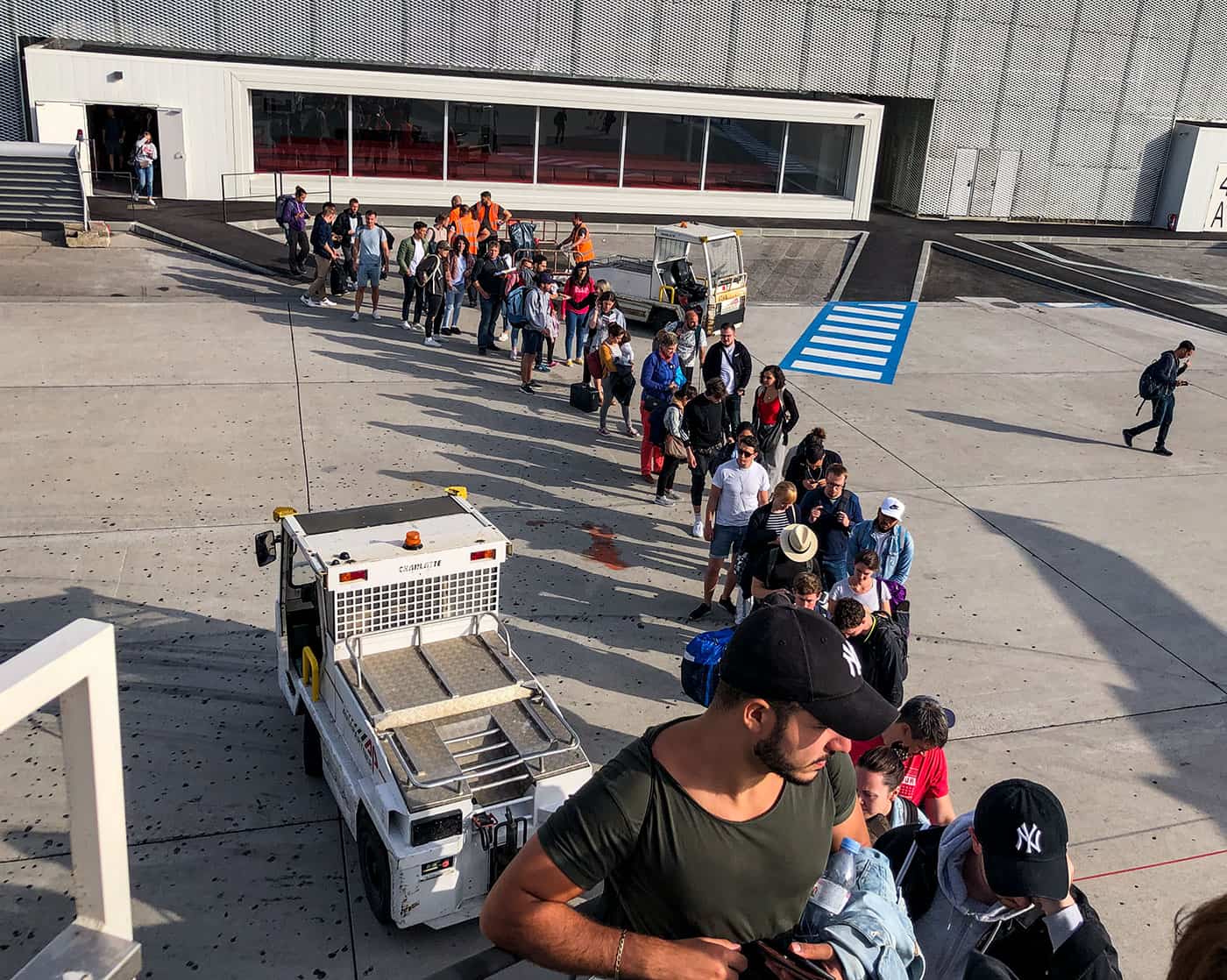 Disembarking in Stuttgart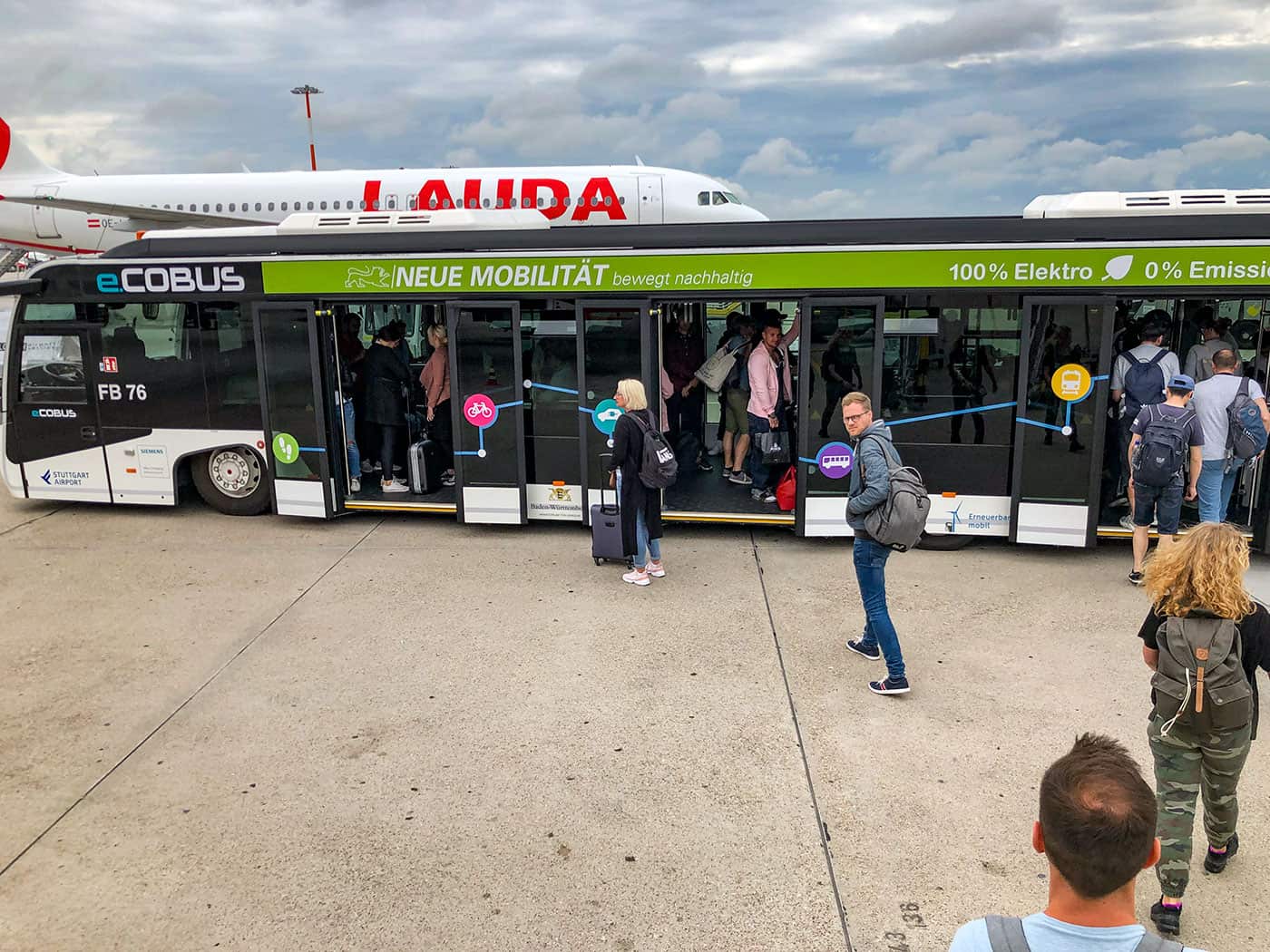 No time saved in the first few rows since everybody has to wait for the bus to get full.
Lauda Cabin Airbus A320-200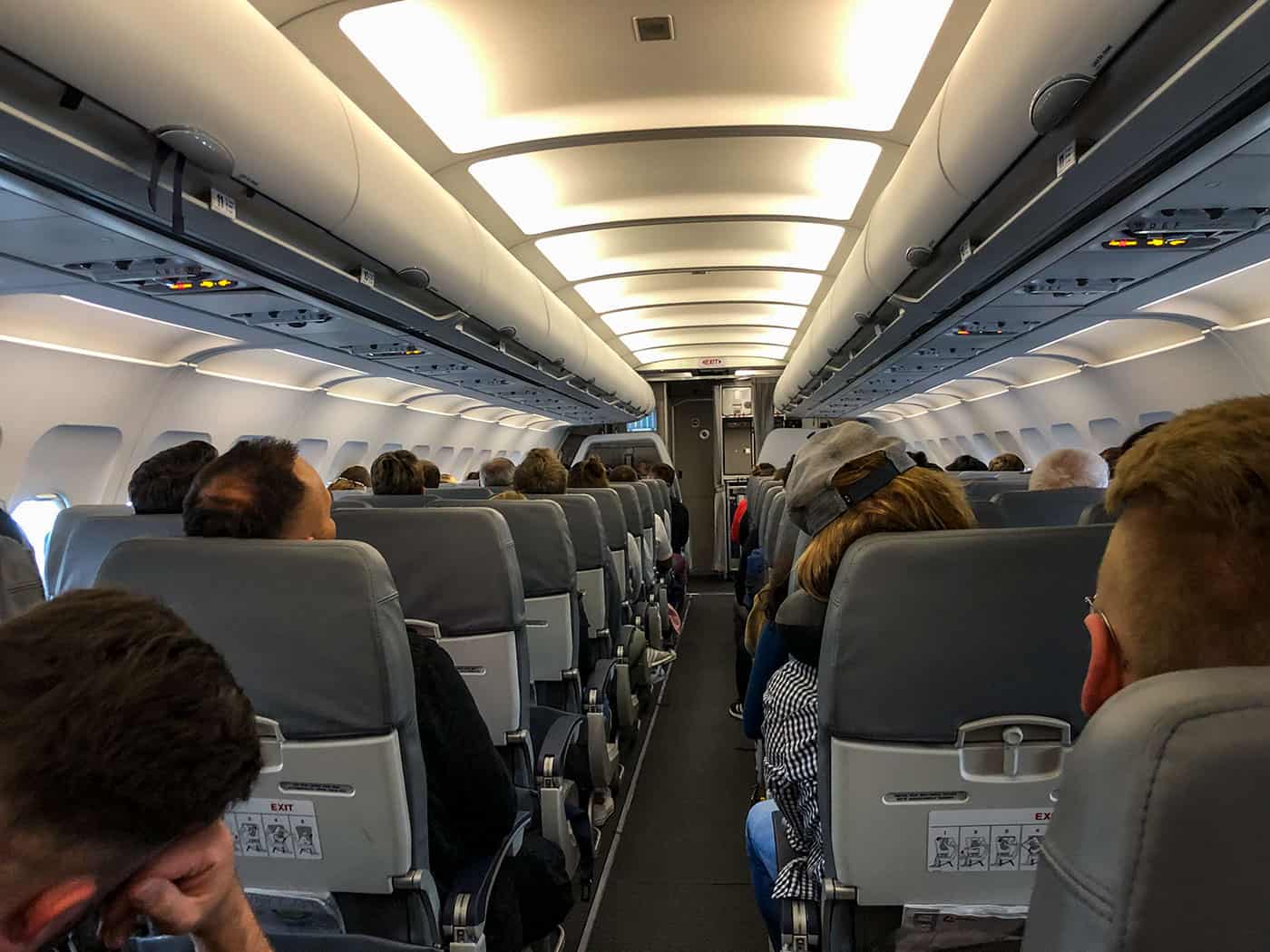 The Laudamotion Airbus A320-200 has a 3-3 seat configuration. 3 seats on each side of the aisle.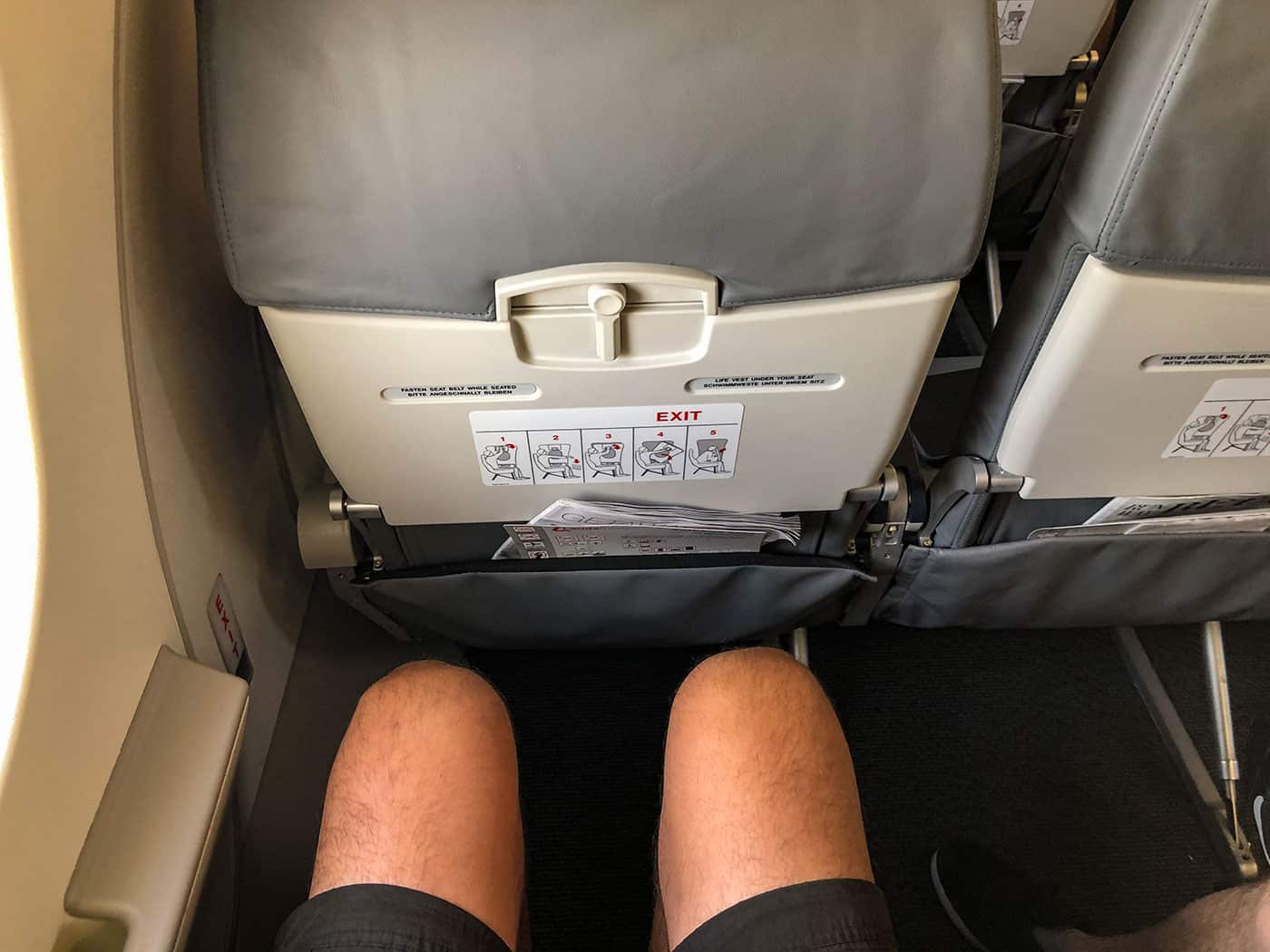 Lucky on the way to Marseille. Got a seat in the Exit Row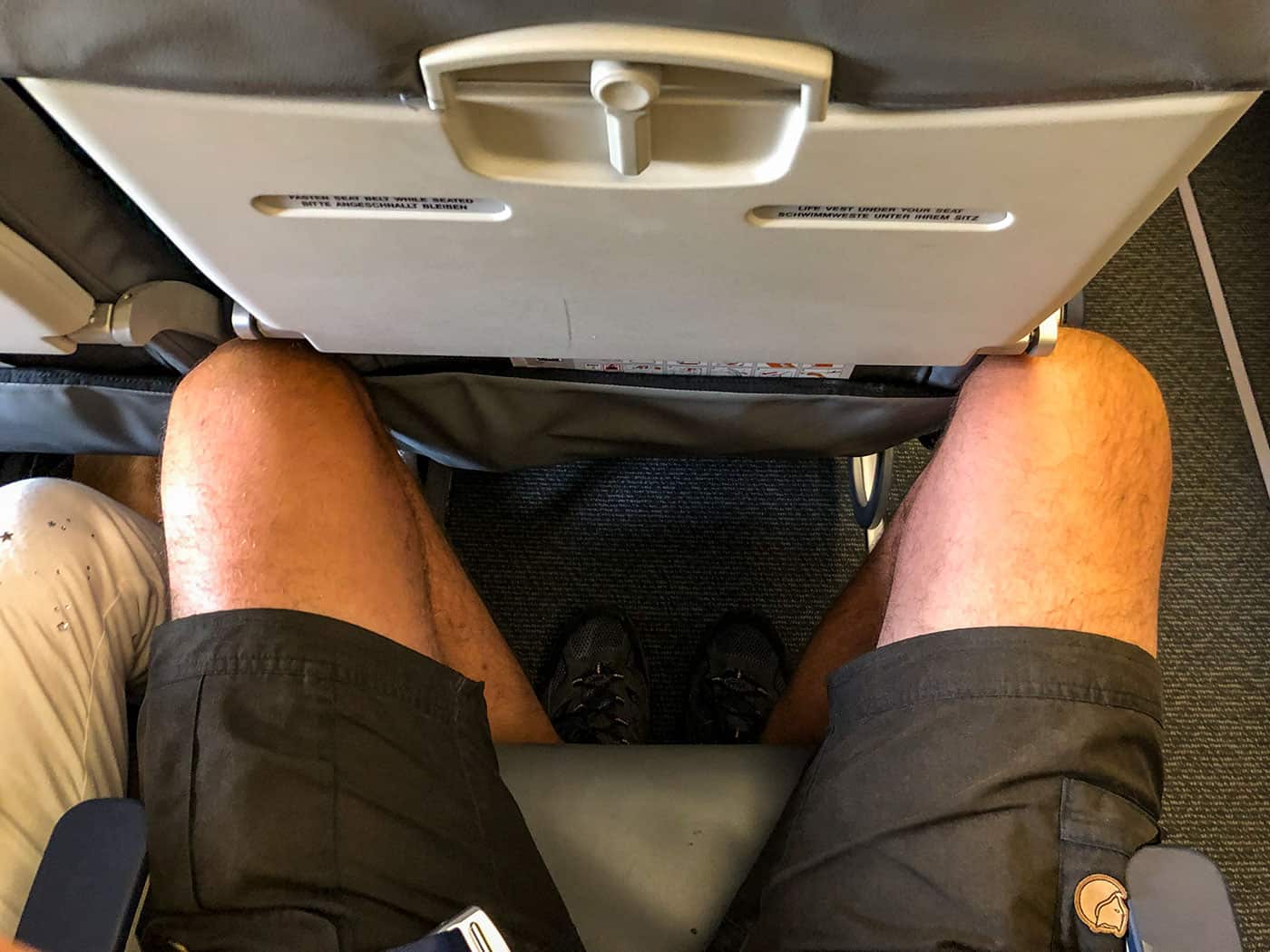 On the way back a had a regular seat. I am 203 cm or 6.7 feet so this is way too small. Was lucky on the way back. A friendly flight attendant let me move to an exit row seat.
Rating Cabin and Seat

Since that is a Budget Airline it gets 3 stars for the Cabin.
Cabin Noise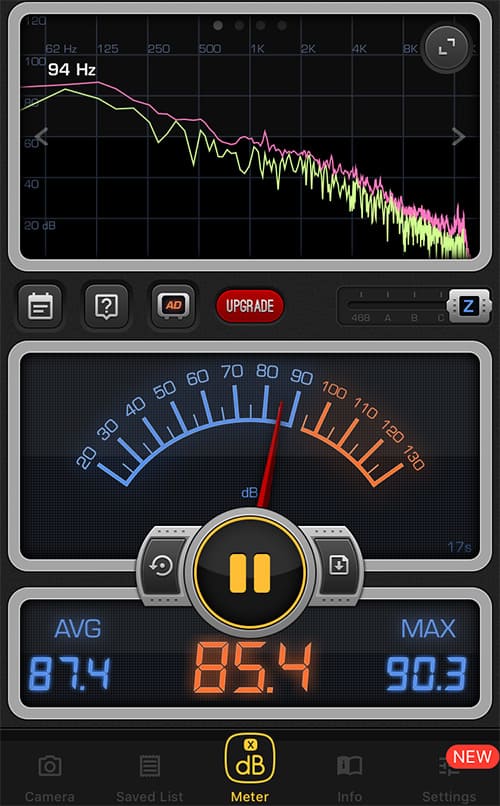 It looks quite average and it is about the same as the Boing 777-300ER of Kuwait Airways for example. No stars for this since the noise depends on where you sit. Before or behind the engine for example.
Summary of my Review for Lauda
| Lauda Review | |
| --- | --- |
| Website | 4.5 |
| Baggage and Carry-On Luggage​ | 1 |
| Seating | 3 |
My rating of this Lauda flight: 2.8 Stars
Still, I would fly with them again.
What do you think of Lauda? Please let me know in the comment section!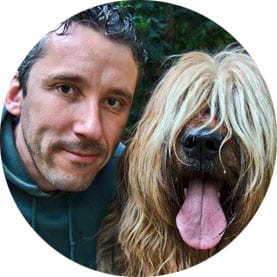 I like to travel and I like to snap pictures! My mother got me a Eurorail ticket when I was 15 and together with 2 friends we adventured into France. This was the beginning of a new addiction. On this site, I want to share some tips and trips with you! Now I am on the road for more than 8 months every year. Visiting old friends and making new friends while exploring this big blue ball. My Blog with a lot of travel pictures: https://hastenteufel.name