Actually, if you want to go from Bangkok to Angkor Wat by bus you would go from Bangkok to Siem Reap by bus!
From Bangkok to Siem Reap by Bus
Most people that go to Angkor Wat think that the bus stop is also at the temples. Not to mention the hotels and guesthouses. But the gateway to Angkor Wat is actually Siem Reap. Angkor Archaeological Park where the temples are is about 5 kilometers outside of town. If you want to travel from Bangkok to Siem Reap with a bus you have s few options.
My Recommendation to get from Bangkok to Angkor Wat
If you ask me I would take Giant Ibis Transportation (I explain everything in this linked post) to go from Bangkok to Cambodia. If you want to go from *Bangkok to Siem Reap you have two options: 07.45 from Giant Ibis Bangkok – รถโดยสารไจแอนท์ไอบิสในกรุงเทพฯ 229 Phra Sumen Rd, Khwaeng Talat Yot, Khet Phra Nakhon, Krung Thep Maha Nakhon 10200, Thailand (super close to Khao San Road!) The bus stops downtown Siem Reap at the Giant Ibis Bus terminal just north of the Sokha Angkor Resort, directly behind the Angkor National Museum. The other option would be the 08.45 from the 12Go Makkasan Station – แอร์พอร์ตเรลลิงค์มักกะสัน. The station is right at the Airport Rail Link. This comes in handy if you stay somewhere with access to the MRT system. You can take a train to Phetchaburi Station. You could even catch a Klong Boat to Asok Pier. You find the booking site here: *Bangkok to Siem Reap
From Khao San Road to Siem Reap by Bus
Khao San Travel Mart (51 Trokrongmai, Chaofah RD., Pranakorn, Bangkok 10200) has a bus at 08:00, 09:00 and 01:00. The trip should take about 8 hours with border crossing. Usually, they pick you up at the Mc Donalds close to the police station at Khao San Road. But check your ticket before you miss the bus since this can change any time. You can book your ticket here: *Khao San Travel Mart
From Morchit Bus Station to Siem Reap
Morchit Bus Station is also called Mo Chit or Chatuchak Terminal. Some people call it the Northern Bus Station. Here you will find another option to get from Bangkok to Angkor Wat.

Transport Co LA is a Thai government-operated company and has *one bus from Morchit to Siem Reap at 09:00. The trip takes about 9 hours. Some days there is another one at 07:30 which usually is a bit faster.
Keep in Mind – There is a Border to cross
You will cross an international border! You need a valid visa to do so. If you do not have a visa you can get a Visa on Arrival the border. It should cost you US$30 and they only accept clean dollar bills. If you want to pay in Thai Bath be prepared to pay more. Bring two passport pictures as well. Since May 2019 they usually scan your passport picture but if the machine is broken you better be prepared. Your passport needs at last one empty page for the sticker and some space for two stamps. Sometimes there is a mysterious separate 100 baht fee on top of the US$30 fee for the stamps. If the line is not too long you can insist to get your visa without tea money.
The bus company might arrange a special VIP service for another 5US$ to speed things up. Usually, you can do everything on your own save this money.
Most companies change the bus at the border but will bring your bags to the other side. Sometimes you have to bring them yourself
Bus Bangkok - Siem Reap

฿ 720–1,010

7h 30m – 9h 45m

→

Express

07:30

→

Universe Noble 37

07:45, 08:45

→

Intercity

00:45, 08:30

←

Universe Noble 37

07:45, 08:45

←

Express

08:00
Find a Room or Dorm Bed in Siem Reap
The search window will populate with location and prices when you fill in your date. Keep in mind that these are prices for two people. You can change that of course if you make a booking. Single rooms or a single Dorm Bed will save you about 50% of the price.
The Bus Route on Google Maps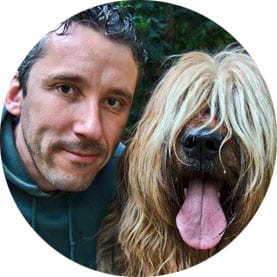 I like to travel and I like to snap pictures! My mother got me a Eurorail ticket when I was 15 and together with 2 friends we adventured into France. This was the beginning of a new addiction. On this site, I want to share some tips and trips with you! Now I am on the road for more than 8 months every year. Visiting old friends and making new friends while exploring this big blue ball. My Blog with a lot of travel pictures: https://hastenteufel.name