What is the best bus company in Cambodia? It is Giant Ibis!
Giant Ibis – The Ruler of the Cambodian Bus Market
Giant Ibis is quite new on the market since it only started in June 2015. The good thing is that the buses are quite new as well. In a few years, Giant Ibis became already the best and most modern operators across Cambodia. Giant Ibis is widely regarded to be more professional than most others in the country. It has more in common with western bus companies than most of its Cambodian rivals. But Giant Ibis is not only the best bus operator in Cambodia. If you want to travel from Thailand to Cambodia or from Vietnam to Cambodia or the other way round – Giant Ibis has you covered!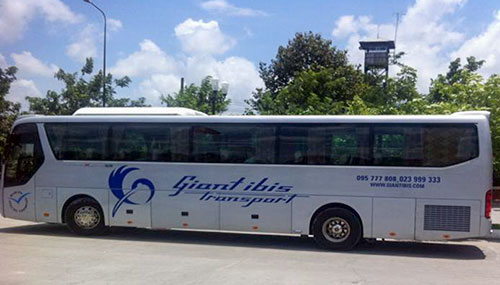 The best Bus Operator in Cambodia
Apart from the new buses, there are a few more things that you will love about Giant Ibis.
More legroom and reclining seats. Free Water and a Snack. Free Wifi and power sockets to recharge your gadgets.
Giant Ibis Transport puts passenger safety first and has the safest record of any passenger transport company in Cambodia, according to the Ministry of Public Works and Transportation. They are the first company to implement a two-driver policy on trips of more than four hours to prevent driver fatigue.
More than 12 full-time mechanics work with the drivers daily on a maintenance scheme to prevent breakdowns before they can occur. A checklist walk-through is carried out on each bus before each departure.
Giant Ibis is also a very good option for those looking to cross the Cambodian border into Thailand or Vietnam. This process is usually very confusing and can become quite stressful so it is to the operator's credit that border crossings on these services are as hassle-free as possible. Giant Ibis has a contact that will escort you through the border and streamline the process.
Buses on these routes have Wi-Fi as well as individual power sockets which is a rarity. As any frequent traveler will know, being able to charge your phone is incredibly useful for when you arrive at an unfamiliar destination and are trying to work out how to get to your hotel.
Phnom Penh to Siem Reap
The main route that Giant Ibis offers inside Cambodia is from Phnom Penh to Siem Reap. There are five buses per day *from the capital to Siem Reap, close to the world-famous site of Angkor Wat. The first bus leaves at 08.45. The others leave at 09.45 and 12.30 and at the night at 23.00 and 23.30. The trip usually takes seven hours in either direction.
There are also tree departures heading *from Siem Reap to the capital each day, starting at 08.45. The other two leave at 09.45 and 12.30 and at the night at 23.00 and 23.30. Tickets for either journey are priced at about 15 US$ per person.
Keep in mind that road conditions change quite a bit over the year in Cambodia. In the dry season with repaired roads, the bus can be one hour or faster. The opposite goes for Rainy Season where the bus can be late. On top of that, you might have traffic. So never book another transportation to close to your expected arriving time.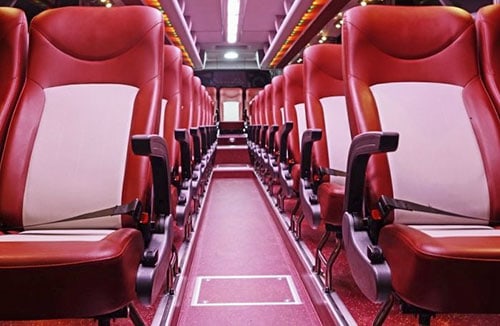 Phnom Penh–Kampot
From Phnom Penh, you can also reach the riverside town of *Kampot in less than three hours. There are two buses each day at 08.00 and 14.45, scheduled to arrive at 10.30 and 17.15 respectively. Two buses also head *in the opposite direction every day at 07.45 and 14.00. The tickets cost about 9 US$ each way.
Phnom Penh–Sihanoukville
For those looking to head to Cambodia's stunning beaches in the south of the country, you can visit *Sihanoukville from Phnom Penh. There are two buses leaving the capital per day at 08.00 and 12.30. The journey lasts less than five hours so you can even relax on the beach in the afternoon if you take the morning bus!
There are two daily services *from Sihanoukville to Phnom Penh, at 08.30 and 15:30, with all departures priced at 11 US$.
Where are the Giant Ibis Cambodian Bus Stations
Phnom Penh: Giant Ibis Bus Terminal on Street 90, near Wat Phnom.
Siem Reap: Giant Ibis bus terminal just north of the Sokha Angkor Resort, directly behind the Angkor National Museum
Kampot: Giant Ibis ticket office near the Durian roundabout behind Sokimex petrol station
Sihanoukville: Giant Ibis ticket office on the road to Sokha Beach about 200 meters from Two Lions roundabout.
International Service
Giant Ibis offers international routes as well. You can travel from Cambodia to Thailand and Vietnam.
Cambodia – Vietnam
From Phnom Penh, you can travel with *Giant Ibis to Vietnam's Ho Chi Minh, with two daily departures at 08.00 and 9.45. The trip takes around six hours so you'll arrive in the afternoon. Tickets cost around 18 US$. The bus stops in downtown Ho Chi Minh City at the Giant Ibis ticket office on Pham Ngu Lao Street in District 1. Once you've received your baggage there are plenty of metered taxis available to take you to your next destination.
Vietnam to Cambodia
There are two departures every day. 08.30 and 09.45 from *Ho Chi Minh to Phnom Penh. The bus departs from the Giant Ibis ticket office in downtown Ho Chi Minh City at Pham Ngu Lao Street in District 1.
Cambodia – Thailand
If you are interested in visiting Thailand then it is possible to use Giant Ibis to travel by bus from *Siem Reap to Bangkok. There is two bus service per day. The first at 07.45 and the other one at 08.45. Depending on the season it should take eight to nine hours, with fares at around 32 US$. They leave at Giant Ibis Main Office but since everything changes fast in Siem Reap you better make sure when you have your ticket. The bus stops at Tanoa, close to Khao San Road in Bangkok.
From Bangkok to Siem Reap
If you want to go from *Bangkok to Siem Reap you have two options: 07.45 from Giant Ibis Bangkok 229 Phra Sumen Rd, Khwaeng Talat Yot, Khet Phra Nakhon, Krung Thep Maha Nakhon 10200, Thailand (super close to Khao San Road!) The bus stops downtown Siem Reap at the Giant Ibis Bus terminal just north of the Sokha Angkor Resort, directly behind the Angkor National Museum.
And 08.45 from the 12Go Makkasan Station – แอร์พอร์ตเรลลิงค์มักกะสัน The station is right at the Airport Rail Link. This comes in handy if you stay somewhere with access to the MRT system. You can take a train to Phetchaburi Station. You could even catch a Klong Boat to Asok Pier. You find the booking site here: *Bangkok to Siem Reap
Looking for a cheap ticket? Try *Trip.com for cheap flights!