On this Page you find Information about
KLIA Ekspres is a train service that connects Kuala Lumpur International Airport (KLIA & KLIA2) to KL Sentral. There are 2 terminals, KLIA, and KLIA2 (serving low-cost carriers including AirAsia). They are about 2.5 km apart. The airport is about 60 km from KL city center by road. The train takes only 28 minutes from KLIA and 33 minutes from KLIA2 to reach KL Sentral. Both KLIA Ekspres and KLIA Transit trains are high-speed trains that travel at a speed of 160km/h.

KL Sentral is Malaysia's largest transit hub located in the heart of Kuala Lumpur. From here you reach every destination in Kuala Lumpur by train or taxi. Or you catch a bus to other cities in Malaysia.

Heading to Putrajaya, Cyberjaya or other places along the rail corridor instead? Take the KLIA Transit train. This is a commuter service between the airport and KL Sentral Station that stops 3 times along the way – at Salak Tinggi, Putrajaya & Cyberjaya and Bandar Tasik Selatan. Find out the train schedule and fares here.
KLIA Ekspres Schedule
| | KL Sentral to KLIA / KLIA2 | KLIA to KL Sentral | KLIA2 to KLIA / KL Sentral |
| --- | --- | --- | --- |
| First Train | 05:00 | 05:00 | 04:55 |
| Last Train | 04:00 | 01:00 | 0:55 |
KLIA Ekspres Frequency
Every 15 minutes – peak hours:
Sun to Fri 06:00-09:00 hrs, 16:00-22:00 hrs (approximate)

Every 20 minutes – off-peak hours:
Sun to Fri 05:00-06:00 hrs, 09:00-16:00 hrs, 22:00-00:00 hrs (approximate); Sat all-day

Every 30 minutes – after midnight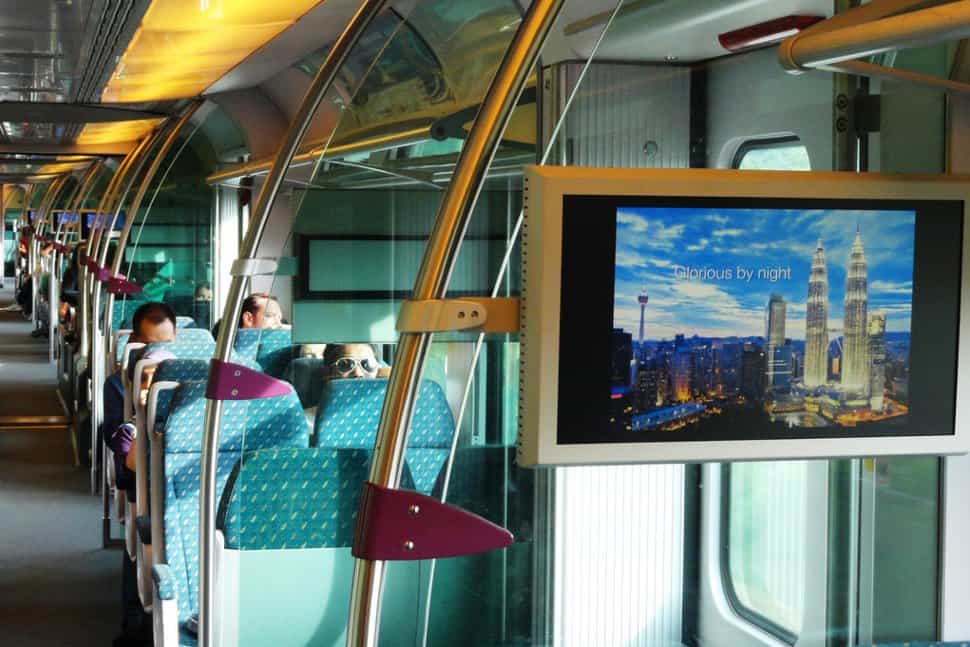 KLIA Ekspres Features
The KLIA Ekspres train is air-conditioned, equipped with comfortable contoured seats, a washroom, digital entertainment, overhead racks for light luggage and tiered racks for large luggage.
The ERL train features the infotainment systems, Wi-Fi, wheelchair compartments, and baggage racks to ensure a smooth and enjoyable ride for the passengers.
How to get KLIA Transit tickets
From Kuala Lumpur International Airport to KL Sentral (Downtown Kuala Lumpur)
*KLIA 1 to Kuala Lumpur
**KLIA 2 to Kuala Lumpur

From KL Sentral (Downtown Kuala Lumpur) to Kuala Lumpur International Airport
Kuala Lumpur to KLIA 1
*Kuala Lumpur to KLIA 1
How much is the KLIA Ekspres
A One Way ticket is 55 MR and a Return ticket 100 MR when I wrote the post. A child between 6 and 15 cost 25 MR or 50 MR Return. Children below 6 years travel for free.
Flight Check-In at KL Sentral
You want to get to the airport fast. This is why you want to use the train instead of a car or bus to the airport. Why not even save more time and Check-In at the airport train station downtown Kuala Lumpur?
Malaysia Airlines, Cathay Dragon and Malindo Air provide city center check-in service which is offered exclusively to KLIA Ekspres and KLIA Transit passengers. You only need to have a valid train ticket to check-in downtown.
Your luggage will be tagged to your destination and you can collect it after your flight. You even can go to grab a snack or coffee before boarding your train to the airport.
Little India with lots of good food options is just outside KL Sentral.

The minimum check-in time is 2 hours before your flight departure time (or 1.5 hrs for domestic flights without checked baggage). Please check with your airline for counter operation hours and check-in time requirements. The baggage allowance is as per your airline policy.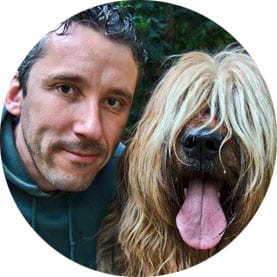 I like to travel and I like to snap pictures! My mother got me a Eurorail ticket when I was 15 and together with 2 friends we adventured into France. This was the beginning of a new addiction. On this site, I want to share some tips and trips with you! Now I am on the road for more than 8 months every year. Visiting old friends and making new friends while exploring this big blue ball. My Blog with a lot of travel pictures: https://hastenteufel.name